---

Fight of the century : writers reflect on 100 years of landmark ACLU cases / edited by Michael Chabon & Ayelet Waldman.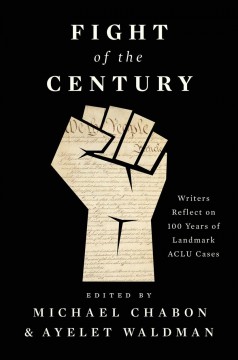 Available copies
Current holds
0 current holds with 2 total copies.
Summary:
On January 19, 1920, a small group of idealists and visionaries, including Helen Keller, Jane Addams, Roger Baldwin, and Crystal Eastman, founded the American Civil Liberties Union. A century after its creation, the ACLU remains the nation's premier defender of the rights and freedoms guaranteed by the Constitution. In collaboration with the ACLU, authors Michael Chabon and Ayelet Waldman have curated an anthology of essays about landmark cases in the organization's one-hundred-year history. Fight of the Century takes you inside the trials and the stories that have shaped modern life. Some of the most prominent cases that the ACLU has been involved in--Brown v. Board of Education, Roe v. Wade, Miranda v. Arizona--need little introduction. Others you may never even have heard of, yet their outcomes quietly defined the world we live in now. Familiar or little-known, each case springs to vivid life in the hands of the acclaimed writers who dive into the history, narrate their personal experiences, and debate the questions at the heart of each issue.
Location
Call Number / Copy Notes
Barcode
Shelving Location
Circulation Modifier
Age Hold Protection
Active/Create Date
Status
Due Date

Cook Memorial Library - La Grande

323.06 F471

(Text)
35178001781460

Adult Non-Fiction

Book
Branch_Only_3months
04/17/2020
Available
-

Hood River County Library

323.06073 FIG 2020

(Text)
33892100657882

Adult Non-Fiction

Book
None
02/07/2020
Available
-
Record details
ISBN:

9781501190407

ISBN:

1501190407

Physical Description:

xxiv, 305 pages ; 24 cm

Edition:

First Avid Reader Press hardcover edition.

Publisher:

New York :

Avid Reader Press,

2020.

Copyright:

©2020
Content descriptions
| | |
| --- | --- |
| Formatted Contents Note: | Stromberg v. California (1931) / Viet Thanh Nguyen -- Powell v. Alabama (1932) and Patterson v. Alabama (1935) / Jacqueline Woodson -- United States v. One Book Called "Ulysses" (1933) / Michael Chabon -- Edwards v. California (1941) / Ann Patchett -- West Virginia State Board of Education v. Barnette (1943) / Brit Bennett -- Korematsu v. United States (1944) / Steven Ozazaki -- Hannegan v. Esquire (1946) / Daniel Handler -- Terminello v. City of Chicago (1949) / Geraldine Brooks -- Brown v. Board of Education of Topkea (1954) / Yaa Gyasi -- Gideon v. Wainwright (1963) / Sergio De La Pava -- Escobedo v. Illinois (1964) / Dave Eggers -- New York Times Co. v. Sullivan (1964) / Timothy Egan -- Lamont v. Postmaster General (1965) / Yiyun Li -- Griswold v. Connecticut (1965) / Meg Wolitzer -- Miranda v. Arizona (1966) / Hectar Tobar -- Loving v. Virginia (1967) / Alexksandar Hemon -- Tinker v. Des Moines Independent Community School District (1969) / Elizabeth Strout -- Gregory v. City of Chicago (1969) / Adrian Nicole LeBlanc -- Street v. New York (1969) / Rabih Alameddine -- Brandenberg v. Ohio (1969) / Moriel Rothman-Zecher -- Cohen v. California (1971) / Jonathan Lethem -- New York Times Co. v. United States (1971) / Salman Rushdie -- Roe v. Wade (1973) and Doe v. Bolton (1973) / Lauren Groff -- O'Connor v. Donaldson (1975) / Ayelet Waldman -- Weinberger v. Wiesenfeld (1975) / Jennifer Egan -- Buckley v. Valeo (1976) / Scott Turow -- Bob Jones University v. United States (1983) / Morgan Parker -- Church of the Lukumi Babalu Aye v. City of Hialeah (1993) / Victor Lavalle -- Hurley v. Irish-American Gay, Lesbian, and Bisexual Group of Boston (1995) / Michael Cunningham -- Reno v. ACLU(1997) and Ashcroft v. ACLU (2004) / Neil Gaiman -- City of Chicago v. Morales (1999) / Jesmyn Ward -- Zadvydas v. David (2001) / Moses Sumney -- Immigration and Naturalization Service v. St. Cyr (2001) / George Saunders -- Lawrence v. Texas (2003) / Marlon James -- Rasul v. Bush (2004) / William Finnegan -- Kitzmiller v. Dover Area School District (2005) / Anthony Doerr -- Schroer v. Billington (2008) / Charlie Jane Anders -- Adoptive Couple v. Baby Girl (2013) / Brenda J. Child -- United States v. Windsor (2013) / Andrew Sean Greer -- ACLU v. United States Department of Defense, et al. (2018) / Louise Erdrich. |
| Summary, etc.: | On January 19, 1920, a small group of idealists and visionaries, including Helen Keller, Jane Addams, Roger Baldwin, and Crystal Eastman, founded the American Civil Liberties Union. A century after its creation, the ACLU remains the nation's premier defender of the rights and freedoms guaranteed by the Constitution. In collaboration with the ACLU, authors Michael Chabon and Ayelet Waldman have curated an anthology of essays about landmark cases in the organization's one-hundred-year history. Fight of the Century takes you inside the trials and the stories that have shaped modern life. Some of the most prominent cases that the ACLU has been involved in--Brown v. Board of Education, Roe v. Wade, Miranda v. Arizona--need little introduction. Others you may never even have heard of, yet their outcomes quietly defined the world we live in now. Familiar or little-known, each case springs to vivid life in the hands of the acclaimed writers who dive into the history, narrate their personal experiences, and debate the questions at the heart of each issue. |
Search for related items by subject