---
Splat the Cat and the obstacle course / text by Laura Driscoll ; interior illustrations by Robert Eberz ; cover art by Rick Farley.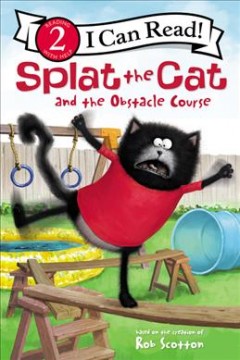 Available copies
Current holds
0 current holds with 5 total copies.
Summary:
"Splat the Cat never wanted to hang out with his little sister, Flo. After all, she was into ballet. But his opinion changes when Flo dominates Plank's obstacle course. Whoa! Her strength, her balance, her speed! Will Splat be able to catch up? And will Splat sign up for ballet?" -- Provided by publisher.
Search for related items by series
Location
Call Number / Copy Notes
Barcode
Shelving Location
Circulation Modifier
Age Hold Protection
Active/Create Date
Status
Due Date

Cook Memorial Library - La Grande

JE Scotton, R br

(Text)
35178001847667

Beginning Readers

Book
Branch_Only_3months
05/10/2021
Checked out
09/27/2021
Record details
ISBN:

9780062697165

ISBN:

0062697161

ISBN:

9780062697158

ISBN:

0062697153

Physical Description:

29 pages : color illustrations ; 24 cm.

Edition:

First edition.

Publisher:

New York, New York :

Harper, an imprint of HarperCollinsPublishers,

2021.
Content descriptions
| | |
| --- | --- |
| General Note: | "Based on the bestselling books of Rob Scotton." -- from front cover. |
| Summary, etc.: | "Splat the Cat never wanted to hang out with his little sister, Flo. After all, she was into ballet. But his opinion changes when Flo dominates Plank's obstacle course. Whoa! Her strength, her balance, her speed! Will Splat be able to catch up? And will Splat sign up for ballet?" -- Provided by publisher. |
Search for related items by subject
LDR
02484nam a2200541 i 4500
001
2294335
003
SAGE
005
20210506234700.0
008
210421s2021 nyua b 000 1 eng d
020

.

‡a

9780062697165

‡q

(hbk.)
020

.

‡a

0062697161

‡q

(hbk.)
020

.

‡a

9780062697158

‡q

(pbk.)
020

.

‡a

0062697153

‡q

(pbk.)
040

.

‡a

TnLvILS

‡b

eng

‡e

rda

‡c

TnLvILS

‡d

TnLvILS
100
1

.

‡a

Driscoll, Laura,

‡0

(DLC)n 97029500

‡e

author.
245
1
0

.

‡a

Splat the Cat and the obstacle course /

‡c

text by Laura Driscoll ; interior illustrations by Robert Eberz ; cover art by Rick Farley.
246
3
0

.

‡a

Obstacle course.
250

.

‡a

First edition.
264
1

.

‡a

New York, New York :

‡b

Harper, an imprint of HarperCollinsPublishers,

‡c

2021.
300

.

‡a

29 pages :

‡b

color illustrations ;

‡c

24 cm.
336

.

‡a

text

‡b

txt

‡2

rdacontent
336

.

‡a

still image

‡b

sti

‡2

rdacontent
337

.

‡a

unmediated

‡b

n

‡2

rdamedia
338

.

‡a

volume

‡b

nc

‡2

rdacarrier
385

.

‡n

age

‡a

Children

‡2

lcdgt
490
1

.

‡a

Splat the Cat
490
1

.

‡a

I can read! 2, reading with help
500

.

‡a

"Based on the bestselling books of Rob Scotton." -- from front cover.
520

.

‡a

"Splat the Cat never wanted to hang out with his little sister, Flo. After all, she was into ballet. But his opinion changes when Flo dominates Plank's obstacle course. Whoa! Her strength, her balance, her speed! Will Splat be able to catch up? And will Splat sign up for ballet?" -- Provided by publisher.
650
1
0

.

‡a

Splat the Cat (Fictitious character)

‡v

Juvenile fiction.
650
0

.

‡a

Cats

‡v

Juvenile fiction.

‡0

(DLC)sh2008100224
650
0

.

‡a

Brothers and sisters

‡v

Juvenile fiction.

‡0

(DLC)sh2007102168
650
0

.

‡a

Obstacle racing

‡v

Juvenile fiction.
650
0

.

‡a

Ballet

‡v

Juvenile fiction.
650
1

.

‡a

Splat the Cat (Fictitious character)

‡v

Fiction.
650
1

.

‡a

Cats

‡0

(DLC)sj 96004989

‡v

Fiction.

‡0

(DLC)sj2020050019
650
1

.

‡a

Brothers and sisters

‡0

(DLC)sj 96004933

‡v

Fiction.

‡0

(DLC)sj2020050019
650
1

.

‡a

Obstacle racing

‡v

Fiction.
650
1

.

‡a

Ballet

‡v

Fiction.

‡0

(DLC)sh2009116623
650
1

.

‡a

Humorous stories.

‡0

(DLC)sh 85062975
655
7

.

‡a

Fiction.

‡2

lcgft
700
1

.

‡a

Scotton, Rob,

‡0

(DLC)n 2003054839

‡e

creator.
700
1

.

‡a

Eberz, Robert,

‡0

(DLC)n 2010057052

‡e

illustrator.
830
0

.

‡a

Splat the Cat.

‡0

(DLC)no2012140407
830
0

.

‡a

I can read book.

‡0

(DLC)n 42013105
902

.

‡a

MARCIVE 072021
999

.

‡e

Book
905

.

‡u

admin
901

.

‡a

zcodcb b6865348

‡b

System Local

‡c

2294335

‡t

biblio